Win a 12-Month Free WPForms License
Giveaway from WPForms: Drag & Drop WordPress Form Builder
Today we partnered up with WPForms to give you an opportunity to win a 12 month free WPForms license for one lucky winner. 70% off (coupon code Splendid20) for those who don't win but are convinced they have to try WPForms (the pricing format already shows 50%OFF so Splendid20 code gives an extra 20%).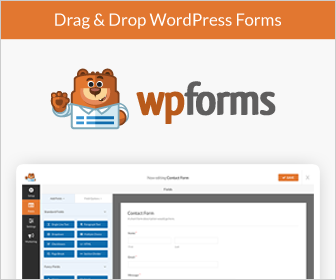 From accepting CV of candidates (making use of customized fields in job application form together with file upload feature for uploading CV already prepared in Word/PDF format) willing to join your company to a customized form for booking hotel rooms, a lot can be done with well thoughtout forms.
Armed with a better tool to interact with WPForms, you leverage forms not only to get new leads but also serve existing customers. No technical or coding knowledge needed.
To save time so that you never start from scratch again, use WPForm's elaborate pre-built form templates that are regularly updated based on the experience handling WPForms users of almost every niche and industry. For instance, using a Likert Scale on your site's survey forms gives you an opportunity to know your customers' feedback/opinion. While designing a customer feedback survey about a certain product, service, or experience, you get immediate access to sample Likert Scale Questions to choose from.
WPForms are mobile friendly. These forms can be integrated with Paypal/Stripe making it easier to raise subscriptions/donations. Here is a full list of features that includes spam protection, instant form notification, and so-called Smart Conditional Logic:
| Feature | Function |
| --- | --- |
| Drag and Drop Form Builder | Easily add, remove, re-arrange fields with built-in drag and drop builder. |
| Form Templates Pack Addon | Start from the library of pre-built form templates saving time. |
| Responsive | Forms will look great on all devices - desktops, laptops, tablets, smart phones. |
| Smart Conditional Logic | Show or hide fields based on a selected item. |
| Instant Notifications | Whenever a user submits a form, you will be instantly notified via email. You can choose to notify just your email or other team members. |
| Entry Management | All the leads are stored in the WordPress database and easily accessible through your WordPress dashboard. |
| Multi-page Forms | For a better user experience, you can break forms into multiple parts or pages. |
| File Uploads | Allow users to upload files (text, images, videos) with restriction on maximum file size (for storage space constraint). |
| Spam Protection | Captcha (including custom questions and math captcha) and Honeypot to stop spam form submissions. |
| PayPal & Stripe Add-ons | Easily receive payments, donations through PayPal and Stripe as they can be integrated with the WpForms. |
| Integration with other Popular Internet Marketing Tools | Integrate with Zapeir, Constant Contact, AWeber, MailChimp, GetResponse, Campaign Monitor, Drip. |
| Post Submissions Addon | Allow users to submit guest posts and other contents. |
| Surveys and polls Addon | Create survey forms and analyze the data with interactive reports. |
| Signature Addon | Allow users to sign your online forms with their mouse or touchscreen. |
| Easy to Embed | Easily embed forms on your pages, posts, widgets, footers along with other contents. |
| Abandonment Addon | For different reasons, sometimes users abandon after filling up partial forms. Get to know the details filled in such incomplete forms. |
| Offline Forms Addon | Feature to save data even if for some reason there is internet disconnection. Feature to save data on browser so that the forms can be submitted once online. |
| Form Locker Addon | Lock your WordPress forms with permissions and access control rules including passwords, members-only, specific date / time, max entry limit. |
| Suggest a Feature | Trying to do something different and unable to find how to do? Suggest a feature that you need and let us help you build it. |
Hurry up and take your chances. 
The ongoing giveaway will be over in 2 weeks. 
Ended
Prize: A 12-month free WPForms license for one lucky winner. If you won't win, you'll still be able to take advantage of a (50+20) 70% off discount through this code: Splendid20.
Ended
Winner
budge2.dibyendu@gmail.com